[av_textblock size=" font_color=" color=" av-medium-font-size=" av-small-font-size=" av-mini-font-size=" av_uid='av-jpxtxrp6′ admin_preview_bg="]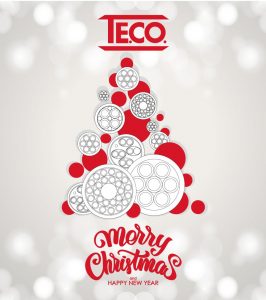 2018 has almost come to an end and like every year, it's time to look back and sum up our industrial accomplishments and look forward to what's in store for the upcoming year.
This has been a chock full year for us, full of new experiences tied to the expansion of the static and dynamic installation cable families, the participation in the international SPS IPC Drives events in Parma and Nuremberg, the exclusive international Rating Cribis Prime Company recognition, events organised by Te.Co. for UL standard adjustments concerning the special cable sector for automation and, lastly, the company's introduction among the first 500 Made in Italy SME distinguished by growth, financial stability and reliability.
And thus if 2018 was a truly stimulating year full of new innovations, we believe that 2019 will be just as exciting, so much so that our range will continue to offer our customers advanced and quality solutions in line with the continuously evolving international market.
The goal we set is to continue research and innovation to further increase the quality and competitiveness of our technological solutions, especially in view of the new skills and know-how required by the market. A goal that we pursue in all sectors and especially in Research & Development, key to cable manufacturing for industrial automation, for dynamic and static installation, specific for every type of application whether already existent or still in the design phase.
It is with this outlook that the Te.Co. team would like to thank all those who made this year's success so great and we wish our customers and partners happy holidays and a happy new year.
[/av_textblock]
[av_social_share title='Share this news' style=" buttons=" av_uid='av-jpxty150′ admin_preview_bg="]